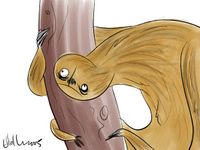 I have read that the sloth is the slowest beast in the world.
I love them.
I believe they are also one of the dirtiest animals in the world.
They have mould growing in their fur which gives them a green tinge.
They swim quite well.
Today, out of the blue, and old friend called me.
A delightful girl I very much fancied when I was at uni with her.
Very beautiful and a wonderful painter.
So that was all very jolly.
If she happens to visit this blog, here is a poem for her that should hopefully bring back a few memories.
"Gthnigg hath wenddt thankgnthng.
Thrusgnthmn hythememnem.
Acchcccccccchhh gthnyd thynowly.
Heeenn eth thnyninnyth".