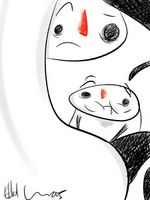 I was rather taken aback yesterday when a few of the visitors to my blog suggested that my images were cute and made people feel good.
This is something that I found a little perplexing.
Consequently I've created a series of slightly distasteful images in the hope of combating this perception.
The first in the series is of a boss who has forced the errand boy to give him a blowie.
At the moment of ejaculation, the bosses wife has walked in.
Whoops!