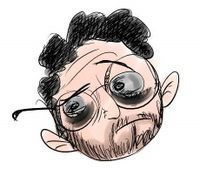 In the film (and I assume the book) Fight Club, Edward Norton describes the symptoms of insomia as feeling like a photocopy of a photocopy of a photocopy.
A terrific description.
Although I don't really suffer from insomnia I know the feeling.
I hate those days where even though you've had a great nights sleep and been eating plenty of vegies and fruit, you still wake up exhausted.
You eat your lunch and SPLAT - you're knackered and need a sleep, like some sort of 3 year old.
Acting like a 3 year old isn't really a big problem for me (I do work in advertising after all) but for some reason there are those who think popping home at 2 in the afternoon for a sleep is a little wrong.
Some people have no compassion.
I've not yet done this with my current job (and don't intend to) but my last role was so busy and exhausting that towards the end of my run there I would often bugger off home for a sleep.
And there's something really nice about having a sleep in the middle of the day.
It's really the only opportunity I have for sleeping in the sun (but not my head - I hate leaving my head in the sun. My hair is very black and I heat up awfully).
Turning up slightly bleary back at the office smelling like toothpaste and fresh deoderant.
People say "Oh, where have you been?" and you tell them you've been visiting clients or popped off for a shag or whatever.
There was an episode of Seinfeld where George build a small bunk under his desk in the office.
I thought there was a great deal of merit in that.