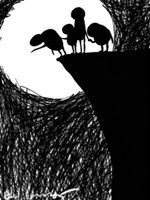 I have a very dear friend whose baby will be emerging into the world sometime in the next few weeks.
We are pretty good pals - I tend to see her socially more than anyone else.
We have an easy friendship and have survived one or two ugly moments with no repercussions.
She said one of the nicest, and perhaps strangest things anyone has ever said to me this weekend.
She told me that if I were a woman, she would have asked me to be her birth partner.
Strange sexual discrimination perhaps?
Not really - my dear friend is a private and it's something I well understand.
It is certainly not the first time my genitals have let me down however.
I'm not going to tell any stories about failed shags and whatnot.
I think most men have been there and my basic attitude is to admit defeat if nothing's going to happen and look for something else to do (not Scrabble or Ludo, but something else saucy).
It was actually pretty pleasing that I was thought about as having a gender.
I usually feel totally sexless when I'm dealing with the women in my life.
So that was a nice thing.
The conversation we had inspired an amusing poem that I sent her this morning.
I'll not post it here as it's for her.