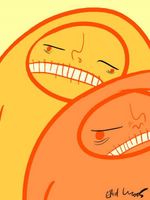 One of the things I am finding to be very helpful about this whole blogging business, is that it is encouraging me to create a new image everyday.
The fact is that I draw every single day, but I rarely have a finished piece (if you are prepared to call these quickies finished pieces) done that often.
It's giving me a very nice opportunity to try some new things, let some stuff evolve..you know.
I like the idea of printing this stuff onto t-shirts and perhaps I'll attempt that at some stage.
Postcards.
Posters.
All the stuff I would like to be doing.
Is it basic laziness or fear of failure that stops me from taking these things further.
Laziness I think.
Ugh.