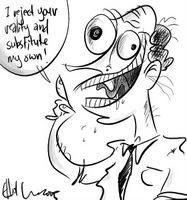 I may have mentioned before that the cinema in town here is an embarassing heap.
I am fully prepared to make the hour treck out to Devonport on the coast to go and see a movie.
This is what I did last night.
It was quite a fun adventure.
I had assumed there was a session on at 8:15ish so I set out quite early with the intention of stopping in for dinner at a town called Deloraine, where a friends brother runs a very nice restaurant.
I set out in the dark and got to Deloraine, sat down and then realised I didn't have the cash to cover dinner.
So I tiptoed out without anyone seeing and went to a rubbish take away place around the corner, and ate my "Baked Dinner and veg $4.50" sitting in the cold on Deloraines main drag.
I was very much enjoying this believe it or not.
So I set off again, listening to Powderfinger and singing and enjoying my favourite fruite pastilles.
And when I got the the cinema I realised the movie wasn't on again for another hour (at 9:30).
I like a late session but I was hoping to be home before 1, but there was nothing to be done.
I told the girl at the counter the time had been advertised wrong on their website.
I had had a run in with her before and when she wasn't very interested I got very unreasonably cranky (I had after all completely lied about it being wrong on the website...).
There is practically nothing to do in Devonport of an evening so I went to a local Indian place, overdrew my account and had another dinner.
I was the only person in the place and had a fine time regaling the pretty waitress with completely false stories about my travels through Europe with my band.
I have never been to Europe but I did a very fine job of sounding like I knew what I was talking about.
She was heading off there soon and loved the opportunity to chat with an expert on the subject.
I flirted with her outrageously and said my name was Miles.
She was very lovely and when I left I told her so.
The movie was Revenge of the Sith and I am shocked to say that I really liked it very much.