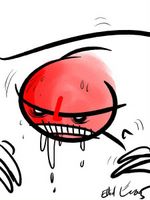 Well thank goodness for my clients I say, because without them I wouldn't know the joy of being bent over a couch and sodomised.
Today I had delightful fellow tell me that the ad I made for him was "the worst ad I've ever seen".
Which is quite a claim as I've made quite a lot of very shit commercials in my time.
This ad was certainly no award winner but the suggestion that it was the worst ad he had ever seen is insane.
If anything, it was one of the nicer commercials I've made since I've been here.
The shoot was bad and the colour shitty but I ran it through After Effects and jazzed it up quite a bit.
He tried to tell me is was distorted.
This is the first time in my new job that I've been made to feel very very mad.
I would have very much enjoyed suggesting to the backward pinhead from the coast that what he knew about television production and the quality thereof would easily fit into the space between his ears.
But no.
I'm not allowed to do that.
"Let me drop my trousers and fetch some KY. Oh yes big boy, that's right. As hard as you like".
If you are at all interested the commercial was for a car dealership.
Fucking experts.
Typing this however is making me feel much better.
I took the hound for a walk at lunchtime and that helped a bit too.
If I'd gone in there and said, "Sorry pal, you greasy fucking salesman, your bullshit routine wouldn't sell shit to dung beetles" it'd be a different story.
Today I also picked some daisies and wrote a haiku about butterflies.