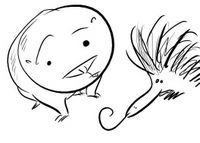 When the punters first fleet arrived on the shores of this wide brown land they were faced with one very distinct problem.
What to eat.
The largest (land) animal in Australia is the kangaroo and the Europeans found them a little hard to catch and kill (all that jumping about perhaps, who knows).
I found an old cookbook recently that had some recipies for roo and wallaby, but also many for some of Australias slower and less agile animals.
They were apparently very fod of wombat.
This is hard to imagine and the wombat is basically a lump of muscle.
Ask anyone who's run over one on the highway and they will tell you that the wombat could never be described as "tender".
They are basically oval, and I've always had an image of a butcher slicing one up on one of those meat slicers in the deli.
Like a big leg of ham.
I read a small passage where they were waxing lyrical on the taste and delights of the echidna.
If you don't know what an echidna is, imagine a hedgehog with a beak.
I can't really imagine there's a whole stack of meat on one, once you remove the spines and the big claws (poisonous!) and all that.
They have a nice pink belly so perhaps they cut a fillet out of that.
They ate quite a bit of possum too.
I've read that possum is revolting but I've had it in a stew with couscous and I thought it was nice enough.
I've never eaten wombat or echidna.
The echidna is my favourite Australian beast and I'll always stop and watch when I spot one.
I had a friend who had an elderly one living on his block.
It had a big bald patch around it's back where it had no spines.
Cute!