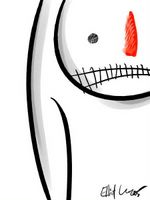 I always find it amazing how perfect strangers in movies just end up as special friends.
From my experience most folks are not at all interested in being pals unless you are attractive to them.
I often meet people and think, "Oh, well, she seems nice enough, perhaps we could do something sometime".
But I never do ask because I always end up feeling foolish.
I think it's easier if you're a woman.
If a guy asks someone to do something it's taken as given that he's after a shag (which would be nice but not really the ultimate goal).
So who knows what you're supposed to do.
I have a small group of intimate friends (intimate emotionally, not intimate in a pink bits kind of a way), and the fact is that I rarely meet anyone I'm that fussed to spend time with anyway.
So ultimately I'm whining about nothing because I have dear friends.
But it would be nice to have a shag occasionally too.