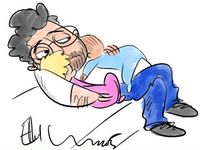 I spent Saturday arvo/evening babysitting the lovely Ashleigh (2 and half) and Logan (7 months).
It's always a pleasure.
They are both a little ill at the moment.
All snotty and a little grizzly.
As a consequence they spent most of the asleep.
Not in their beds, but on me.
As a result I am also snotty and a little grizzly.
I am particuarly annoyed not because I'm sick so much as I have to spend the day on the coast making car ads.
I hate making car ads.
I don't know anything about them (in fact only this weekend it occured to me that my car was making a funny noise. I discovered after visiting the petrol station that you apparently need to keep the water and oil topped up.... well I did know that I'd just forgotten...).
I may be at home in bed tomorrow so unless I see you there I'll catch you all soon.