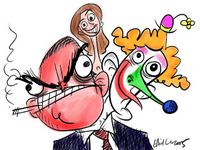 This is the triple headed client monster; the beast, the clown and way, way up the back the nice head that you don't meet very often.
I'm not going to go on some endless rant about how much I hate clients, because I don't, I have a handful that I in fact love dealing with, but they really are the thing that wears you down.
In my new job I've got only a small client base - I'm making 2 or three commercials a week.
In my last role I was hammering out, on average, 10 jobs a week, sometimes more.
I was very happy to exit that role (I was asked to exit, it wasn't voluntary) and this new gig, with half the drama and half the aggrevation is suiting me nicely thank you very much.
I would however like to be doing something else...