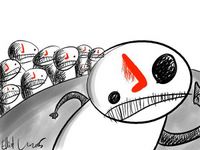 I very rarely plan any of the images I do.
I just let them arrive on their own.
This one however I think I will end up creating as a painting.
When I have finished it I will no doubt take a look at it and think, "Hmmm. Well it's ok but that original scribble I did on the blog was a million times better".
It's always the nature of these things.
Scrawled notes on serviettes and on the backs of envelopes are always a delight.
Not that I would ever be so vain to compare myself to him, but I wonder if Rembrant or Picasso or whoever ever say back and thought, "Geez, I didn't really nail that expression like I did in the margins of Saturdays paper".