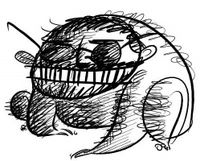 In Tasmania we have a terriffic arts festival called 10 Days on the Island.
Part of this years festivities were performaces by the Tasmanian Leather Orchestra.
The TLO was the brainchild of a Tasmanian artist called Garry Greenwood, a leather scultor.
He's on his last legs at the moment (battling lung cancer) but it was special to be able to see what may well have been his last TLO shows while he is still alive.
The image I've included today has nothing whatsoever to do with Garry or the orchestra.
It's one of the many images I include of myself as some sort of hulking lump.