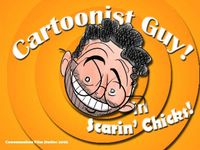 I've always wanted to animate a series based on my lifes adventures.
It would mostly involve a young and talented cartoonist moving to the tiny island state of Tasmania and rotting away while the world passes him by...
Well maybe not.
One thing's for certain though, it would involve very little sex, lots of terrific women and too much beer (although not that often anymore really - when your pals are all growed up with kiddies and partners and whatnot it's hard to spend to much time on the piss. I'm much more likely to babysit and change nappies than sink a six...or a twelve).
Which isn't to say I'm complaining.
I can spend an awful lot of money while I'm at the pub, especially on a big night, so I'm actually saving myself a fortune.
Sigh...