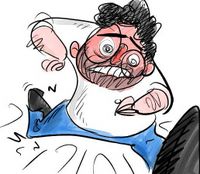 You may all recall me whining about having dislocated my leg about a month ago.
Well, just when it was beginning to heal, I slipped on the boardwalk while walking the dog and tore a whole new set of newly healed tendons.
Very happy indeed.
So I'm bandaged up and full of iburopfen (excellent for hangovers also).
It hurt like fuck and made that same dreadful rending noise again.
Monday was a public holiday here in Australia and I took Tuesday off to rest my leg (ahem).
One good thing however is that my good friend Charmaine found the David Byrne article "Why I hate world music" .
It's a great read for all you intellectual types and those interested in the world in general.