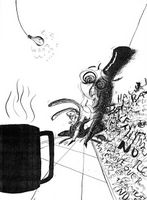 I made the Hatter truly mad.
His pal, the March Hare is a bloke in a rabbit suit who probably imagines he's a rabbit.
It's very hard to make out the doormouse at this size, but he's a dead rat near the March Hare's foot (spot the perspective fuck up).
They are a little frightened of the tea.