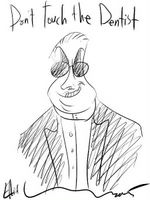 I've written a silly poem today.
I am very big fan of silliness.
The Goons, Spike Milligan, Edward Lear all make me laugh a great deal.
Nonsense.
One of the reasons I've never really persued a career in daily strips is because the things that make me laugh are often pretty obscure and not that user friendly.
Or again, perhaps it's just the laziness.
I hope you enjoy this chunk of silliness.

Don't Touch The Dentist

You can beat up the butcher,
You can jostle the florist.
You can injure the postman,
But don't touch the dentist.

Attack all the coppers,
Despise all the firemen,
Lock up the baggage handlers,
But the dentist - don't touch him.

Punish the Pope,
Question the Queen.
Puncture the president,
But the dentist, not him.

The dentist is mighty.
The dentist is true.
And if you upset the dentist.
He'll come and kill you.

Don't run to your mothers.
Don't slash your wrists.
Don't give satisfaction,
To the hordes of dentists.