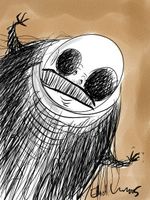 As a child, this picture would have scared the shit out of me.
I wouldn't have slept after I'd seen it.
There was a book called Into The Unknown and it was all about the occult and bigfoot and aliens and whatnot.
I was fascinated by these things as a kid so I loved the book, but I was also scared to death of everything in it.
I was also terrified of the show called Arthur C Clarkes Mysterious World, but insisted on watching it every Sunday afternoon anyway.
Incidentaly, The Scree is a book by Australian comedian Paul McDermot.
It's very much like Jabberwocky or The Hunting of the Snark, but grim and scary and evil.
He's a terrific illustrator.
I can't find a link to it anywhere sorry.
Also, yesterday I spoke to this lovely girl in San Francisco and it was delightful.