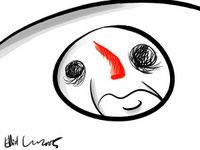 Continuing my trend of broken limbs and coughing fits, I spent the last 24 hours with food poisoning.
I'll not go into the finer details.
I will mention however that there's not a lot more that makes you feel more single than when you are trying to clean up one pile of vomit while simultaneously creating a several new ones.
I'm feeling a lot better now though.
Apart from the aforementioned horribleness I had a lovely weekend.
I had some friends over for dinner on Saturday night and made a lovely roast chook.
I made a rub out of almonds, caraway seeds and garlic that was fucking fantastic.
Then I went to a fun nibbles and drinkies on Sunday afternoon with the same folks I'd had over for dinner.
I'm still a bit weary so I don't have a whole lot to say or much energy to think of anything.
I will end up by mentioning the Mythbusters hovercraft competition was fucking brilliant if anyone has seen it.