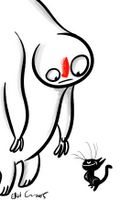 I have recently, through this blog, had some lovely correspondence from all sorts of faceless strangers from around the globe.
Imagine I got all this mail in my actual letterbox every day.
Would I respond to it all?
Probably not.
I enjoy writing letters very much but I think I'd get lazy.
At the moment I regularly write to the unborn child of a friend of mine - proper letters written with a pen.
This may seem like a strange thing to do, but I think if I grew up with written evidence that nice people with good intentions were thinking about me before I squigggled into this world then I might be a happier person.
Which is not to say I'm not happy.
I'm just a sap when it comes to these things.
Today we're all ording pizza for lunch.
I don't really want to be a part of it but it's a new workplace and I feel I may be oestracised if I don't participate.
Hopefully I wont be asked to join the touch football team.
I don't even know what touch football is!
What do you touch?!!!
If it involved a team of girls in bikinis I'd certainly be a little more interested.
I'd be quite prepared to touch anything I was asked to.