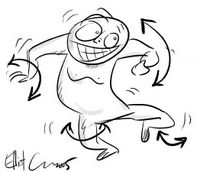 Todays post is for the benefit of a very dear friend of mine - Charmaine.
It's a visual representation of what is known as the "Elliot Is Right Dance".
Although there's no strict method of performance, it is important to include lots of arm waving and toochus wiggling.
It's important to smile when doing the "Elliot Is Right Dance" and extra points are awarded for singing the "Elliot Is Right Song" simultaneously.
Again, there are no right or wrong way of singing this song.
The lyrics are very simple - "Elliot is right" over and over again to any tune of your choice is the accepted norm.
If you can't think of a tune, here are some that others have had success with.
*Happy Birthday.
*Twinkle Twinkle Little Star.
*The Hokey Pokey.
*Mac the Knife.
*Baa Baa Black Sheep.
*Any show tune, Fiddler on the Roof being very popular among my friends.