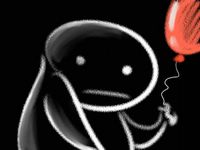 As a creative person one of the problems I face is that as I have a job that requires me to be creative for other people, I often find I use all my art energy for others.
As I've mentioned before on this blog, in the 6 weeks I spent unemployed earlier in the year I managed to get a whole stack of great work done.
I've been re-employed for about a month now and my output of what I consider "real work" that is, work I've created for myself, has pretty much dried up.
I was a bit fretful about this for a while then I remembered my university days.
I had a terrific lecturer called Steve who would always tell anyone stuck with ideas to go grab a bottle of ink and some sticks and see what you could come up with.
Well I did that last night, and while the image has not yet been resolved, I'm very happy with it so far.
It may take several more revisions until it's right (I don't tend to do rough drawings - just empty the image out of my pen onto the page).
The image I've included with todays post has nothing to do with the rather nice stick and ink drawing I did last night.