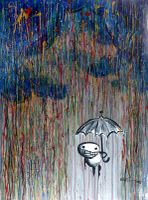 This is the first painting I've done in years.
It's quite large and done with acrylics on board.
There are several layers of clear coat over it which give it a lovely depth.
There's no clear coat under the umbrella, which is probably a little cheesy and obvious but it does create a lovely tactile quality.
This is also the first image on this blog created without the magic of a Wacom tablet.