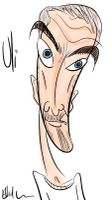 Art and animation folk will find heaps of great stuff over at Uli's blog.
I had requested a picture of him so he could be caricatured.
You can find the original picture at his blog if you'd like to compare.
UPDATE
Speaking of animation, on Donnachadas blog, I found a link to the work of a chap called Bill Peet.
Bill Peet was a story guy at Disney and illustrated many childrens books which were a huge influence on me as a child.
If you don't know his work please follow the link to discover more.