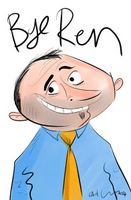 Operations Manager.
We weren't really very good friends by the time he left unfortunately...
It was my role at Southern Cross to do a caricature for a card whenever anyone left.
Last year when they announced mass redundancies I had 10 or so to do all at once.
Some of these people were friends, others not so.
Some of them had worked for the network for nearly 30 years.
Phil, who you will see below, despite being a nuisance, had done editing stints on many of Australias top rating shows and been a cameraman.
He showed us some astonishing vision of him running from bullets somewhere in Africa.
There's not much left of regional television in Australia anymore, and SCTV was one of the last few "self governing" stations left.
How sad.

On a side note - I find it very irritating that I can never get these damn things to post in the order I want them to.
This should be first!!!