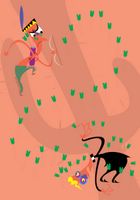 Now this is old, old stuff.
This selection are amongst first finished pieces I ever did in Illustrator.
I'm pleased to say that they're just about 11 years old.
I'm not sure how I feel about them.
Illustrator make is very easy to create a very particular look.
I guess in their day these were really fresh and new but these days its a look you can find all over the place.