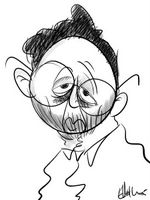 I have made a dreadful error of judgement.
Between the hours of 8 and 4:30 this morning my good friend A. Harris and I poured a vat of scotch down our throats.
I went to sleep about 5ish and was at work for our weekly sales/production conference at 8:30.
Sometime in the 2 hours of sleep I managed, someone came into my house, and without me knowing, took a shit in my skull.
Please let the day end...