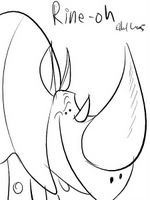 Like so many illustrators and animators I was highly influenced by the classic American style of cartooning.
Disney, Warner Brothers, etc.
I've kind of railed against it in the last 10 years or so.
Not that I think there's anything wrong with it as such, I just think there's a million more interesting ways I could, and should be drawing.
After spending so much time on drawingboard.org, I thought I might like to prove to myself that I can tackle a "standard" animation look.
My work has achieved a loosness over the years which may be here to stay, but it feels nice to know that I can still tackle these things on a basic level if I'm ever required to.
I've often waffled on about my influences on this blog and in the last few weeks I think I've recognised some more:
Quentin Blake, a marvellous English illustrator whos work is often associated with Roald Dahl.
Bill Peet, legendary Disney story man whos simplest shitty scrawl has more character and life than anything I've spent a year working on.
And to a lesser, but certainly visible extent, the Australian artist Brett Whitely.
I don't really know much about the man, but he was wonderful.
Lived art rather than created it.
And died of a herion overdose.
Sad.