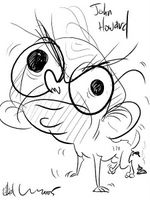 One of my dearest friends in the world is a bossy redhead called Charmaine.
Occasionally I will draw something and straight away I will know she'll appreciate it.
This is a caricature of Australia's Prime Minister, John Howard.
If you like dogs, you'll know they come in a variety of personalities.
Fun, outgoing, shy, angry and occasionally completely thick with no personality whatsoever.
This is the only way I ever think of John Howard.
A stupid mutt whose idea of an exciting time is to have a quick shit on the rug.
I was considering posting an accompanying image of the actual Prime Minister but decided that he looked more like this than any photos anyway.
He has an extended top lip, that I've not really caricatured.
Many other artists more talented than me usually go straight for the lip which leaves him looking very much like an orangutan.
I think this is a little bit unfair, as tests have proven time and time again that orangutans are perfectly capable of making intelligent choices when it comes to difficult decisions and John Howard does not seem to have mastered that ability quite yet.