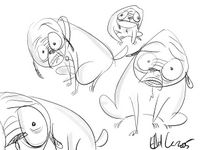 This blog has ensured that every single day I post something new.
Well not weekends - rather miraculously I don't have internet access at home so I post all these things from work, and with the exception of some chatting activity with a friendly antipodean, I don't come into the office.
I'm enjoying looking through my archives and seeing some stuff progress (oh gosh here's an embarassing thing. A rather attractive nice girl just wandered over to chat to me and as she was chatting I did a rather unpleasant bit of fartage, which she clearly got a whiff of, but I ignored and kept chatting away in the hope that it would remove me from the list of suspects. I imagine she's gone into the news room and said "Jeez it stinks in production". Right now I'm ingesting huge great lungfulls in the hope that I can suck all the stinkiness away).
Well.
I think that just about does it.
As a cartoonist I enjoy seeing a conversation start out with art and end with arse.