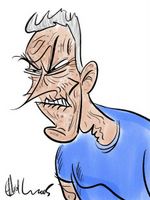 Went and saw Million Dollar Baby with a pal Saturday night.
It was pretty good - she bawled for the last 40 minutes (I did a little but not as much).
The thing I found most fascinating was watching Clint, who is still a very fit, tall shitkicker of a man look so old.
All the musclework was there, but the elastin in his skin meant that his flesh was hanging loose all over.
The body of a much stronger man in the skin of an old bloke.
A bit like a basset hound.
I also enjoyed listening to Clint and Morgan Freeman gripe at each other with their croaky old voices.
It was sometimes hard to distinguish between the two.
Sounded very much like Tom Waits chatting to himself.
Anyway - it's not a bad movie at all, and Clints a pretty good film maker, and if you're a sook then you'll be undoubtedly moved by the whole thing.